Here's some people that know all about JackRabbit
view more reviews
11/13/2021
I couldn't be happier with the JackRabbit.
It's fun to ride and so practical. The compact size and maneuverability make the JackRabbit perfect for places like San Diego and San Francisco. With the JackRabbit, I don't have to deal with parking or ride sharing. And wherever I ride it, I can easily easily return with groceries or whatever in the attached basket. I love it.

David S.

San Francisco, CA
11/13/2021
So much fun, I purchased a 2nd one less than days later!
So much fun, I purchased a 2nd one less than days later!

Bob P.

USA
11/13/2021
This just might be my favorite e-toy yet, and I've had many of them... from e-skateboards to e-bikes, scooters to onewheels. The JackRabbit is beyond practical and extremely fun! Weighing in at 24 pounds puts it in a category of its own. The folding design is genius, especially if small space storage is important to you. 20 mph is fast, but the large wheels make it feel perfectly stable! I'm definitely considering investing in a second one for when I have friends over just because they are so much fun!!! I can't go anywhere without having people ask me all about it!! Thanks JackRabbit team for creating such an incredible and innovative e-bike!!!

Jeff K.

Oceanside, CA
Customer Reviews
Write a Review
Ask a Question
Great cargo box
The cargo box is just the right size. I keep the key to the battery in the net holder, my phone goes on top and my glasses go in the larger area under the phone. I've used it to make a sock delivery. It holds every little thing I need while shopping for groceries. It's sturdy and well made. Perfect.
03/31/2022
Huipio H.

United States
Must have
I put my phone, airpod case, wallet and other small things in here while riding for they won't fall out while riding.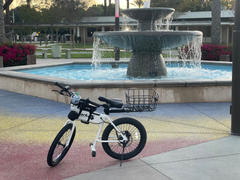 03/17/2022
Linda P.

United States
It is just ok
I think I am trying to put too much in it. My phone fits, kind of, but it is also in it's own case so a bit larger, but I can get it in. The portion under the phone holder is roomy but not sure what I will use it for. Also the entire Cargo box needs to be taken with me if I lock the bike up someplace. As I said it is Just Ok.